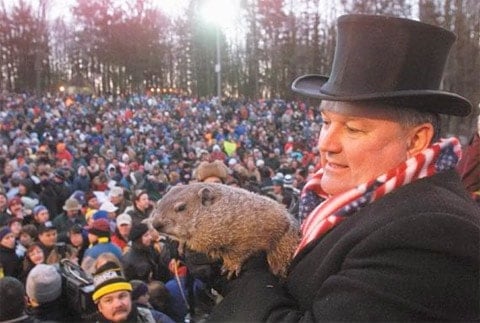 PETA wants Punxsutawney Phil, the internationally famous groundhog looked to for predictions of springtime, replaced by a robot:
"Gemma Vaughan, PETA's animals in entertainment specialist, fired off a letter to groundhog club president William Deeley this week, asking for his promise that the group will forgo the use of real rodents in future Groundhog Day celebrations. Little Phil, Vaughan wrote, is a pretty unhappy fellow, 'forced to be on display year round at the local library and is denied the ability to prepare for and enter yearly hibernation.' Groundhogs are typically shy creatures, Vaughan goes on to explain, and they can become easily upset when confronted by throngs of people, loud noises and camera flashes."
They want him replaced by a robot: "According to PETA executive vice president Tracy Reiman, an animatronic Phil 'would attract new and curious tourists' to Punxsutawney's annual event."
Watch Brian Williams' report on the request, AFTER THE JUMP...
Visit msnbc.com for breaking news, world news, and news about the economy