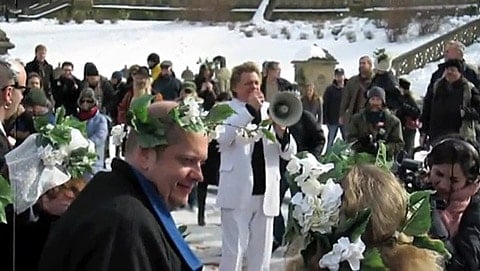 Activist/performance artist Reverend Billy Talen held an "unmarriage until gay marriage" ceremony at Central Park's Bethesda Fountain on Sunday.
The Village Voice: "The happy twosomes -- some married, some in long-term relationships -- arranged themselves before a floral trellis. The theatrical activist and former mayoral candidate, who typically preaches an anti-consumerist gospel, then stepped forward to take a rather slushy pulpit, officiating the Valentine's Day mass 'unwedding.' 'Can I have a same-sex-elujah?' the Reverend bellowed, as his ashy blond pompadour bounced. Delivering his Sunday sermon in 'televangelist drag,' he excoriated the government for the absence of gays' right to the rite."
Watch, AFTER THE JUMP...
More: