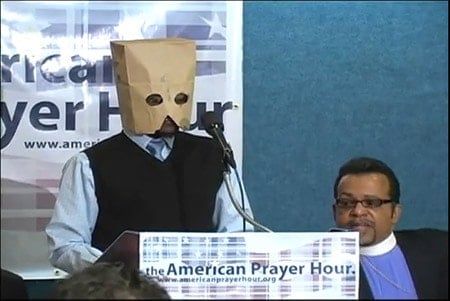 Yesterday I posted about a press conference announcing the American Prayer Hour, the multi-city LGBT response to the National Prayer Breakfast.
The group writes: "While The National Prayer Breakfast is ostensibly a benign event, it is hosted by a secretive fundamentalist organization, The Family, which is directly tied to the draconian 'Kill the Gays' bill in Uganda. We strongly urge those invited to the National Prayer Breakfast to reconsider attending the event. Instead, they can join us at our American Prayer Hour."
Watch the gay Ugandan seeking asylum who was forced to conceal his identity, Bishop Gene Robinson, and HRC Religion and Faith Project Director Harry Knox speak at the presser,
AFTER THE JUMP...