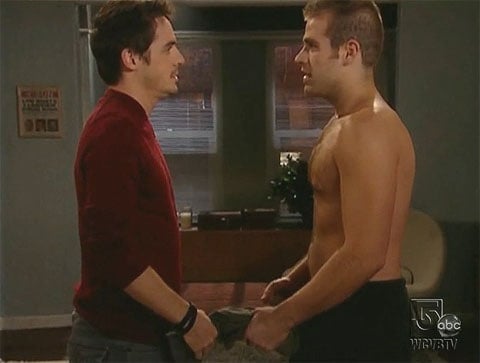 Scott Evans and Brett Claywell's gay storyline will be written out of One Life to Live by mid-April, TV Guide reports:
"Word is, the decision to drop the duo didn't come easily. Kish has been a big success with the media and the show's gay fans, and gay-advocacy groups have showered OLTL with awards for creating the trail-blazing couple. But sources at the network say the duo failed to resonate with the mainstream audience. Ratings for the ABC soap were particularly dismal in late 2009 during the weeks that Fish came out of the closet and he and Kyle officially became a couple. Also playing simultaneously was a sprawling plot that had Robin Strasser's character, Dorian, pretending to be a lesbian in order to win the gay vote in the Llanview mayoral race. A case of gay overkill?"
Said executive producer Frank Valentini: "We are concluding the story that we set out to tell with Kyle and Fish. We are very proud to have broken new ground with a same-sex couple on daytime."
The "Kish" sex scene, AFTER THE JUMP...