A couple of politicians took to the airwaves during Sunday morning's political talk shows to discuss "Don't Ask, Don't Tell."
Colin Powell, who back in February revealed that he supported the repeal of DADT, was a guest on ABC's "This Week" and was asked why he's changed his mind about the policy.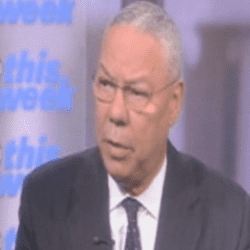 "Things have changed. That was 17 years ago." He also added that, "I am personally of the view now that attitudes have changed and I think it is perfectly acceptable to get rid of the law and the policy but I think before we actually do it we have to hear clearly from the officers and the men and women who are charge of executing the policy."
"I think it's important to listen to the troops who are affected and take into account the views of the senior leadership and military leadership of the armed forces."
Watch a clip of Powell on "This Week" AFTER THE JUMP.
Also this morning, the chairman of the Joint Chiefs of Staff Mike Mullen appeared on CNN's "State of the Union" and told Candy Crowley he thinks Congress should have waited before voting to repeal the policy last week.
Politico reports:
Mullen, who backs the repeal, said a provision that requires the White House to "certify" the change gives the military great leeway in when and how to phase in the controversial changes.

"Ideally, I would certainly have preferred that legislation not be brought forward .. until we are done with that review," he told Candy Crowley on CNN's "State of the Union."

"That certification is key in terms of when we would be ready to implement it and whether in our judgment how much the change is going to effect the things that are at the top of the list for me – readiness, unit cohesion, recruiting and readiness," Mullen said. "It makes this review… that much more critical."
Meanwhile Lt. Dan Choi Capt. Jim Pietrangelo are spending their Memorial Day weekend by continuing the dignity fast they began a few days ago in protest of DADT. Watch the two speak after two days of going without food AFTER THE JUMP.