I have always believed love conquers all – yesterday I got to see it in action.
In the last week over 30,000 of you added your name to mine calling for the release of Steven Monjeza and Tiwonge Chimbalanga – the Malawi couple sentenced to 14 years hard labor for the "crime" of homosexuality. With incredible joy, I am writing to share with you that Malawi President Bingu wa Mutharika has ordered their release. Steven and Tiwonge were freed on Saturday night.
They have won their freedom and you have been a part of it.
We celebrate this astounding turn of events with Steven, Tiwonge, and the countless Malawians fighting for their release. It is a historic day for Malawi.
Though they are free from prison, sadly their safety and future in Malawi is still unknown. I hope this is just the beginning of our work together.
Human rights injustices continue for so many Malawians facing poverty, disease, and a lack of critical resources. There are still over two million orphans and vulnerable children who need to experience love's embrace.
It is going to take the love and creativity of all of us to bring justice to the people of Malawi. 
Thank you for joining me in Raising Malawi.
With great love,
Madonna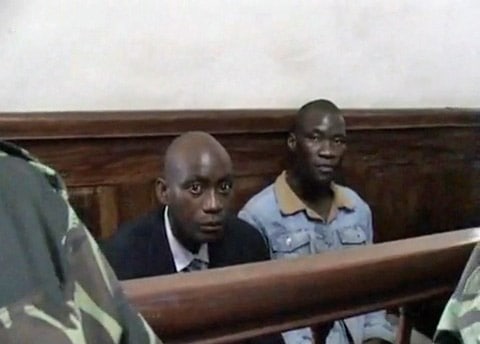 Well, after yesterday's pardon (which I'm still ecstatic about), in hiding and most likely looking for a way out of Malawi.
The AP reports:
Activists said late Saturday that they were searching for a safe house for the couple, fearing they could be attacked upon release. The couple's lawyer, Mauya Msuku, said he had not seen either of the men since their release.

Maxwell Manda also said he had not seen Chimbalanga, his brother-in-law, on Sunday. He told The Associated Press days earlier that Chimbalanga wanted to leave Malawi upon his release. "We heard that they were released but we don't know where they are," he told The AP on Sunday. "They are neither at their home in (a Blantyre suburb) or their villages. But I know they are keeping a low profile deliberately because of the sensitivity of their case."

The two were not at their Blantyre home when an Associated Press reporter visited Sunday morning.
Update: It appears as if The Guardian has more information about the location of Monjeza and Chimbalanga. They had been imprisoned in different facilities over the last few months and are still apart, having returned to their respective villages in Malawi. Sadly, their homecoming has been filled with anger and hate.
The Guardian reports:
Monjeza's family members said his partner would not be welcome in their village. Kelvin Kaumira, in his 60s, said the community was "fuming" over the incident. "People here are furious," he said. "There are so many beautiful women in this village looking for a hand in marriage."

Zione Monjeza, an aunt of Monjeza, said: "Nobody wants to see Tiwonge again in this village. If he dares to come here, he must do so with police for his protection." Such is the widespread public hostility to homosexuality that there are fears of reprisals against both men.
The Guardian also notes that Monjeza is trying to sell his story in order get money to survive.
Madonna issued a statement today about the couple's release. Read it AFTER THE JUMP.