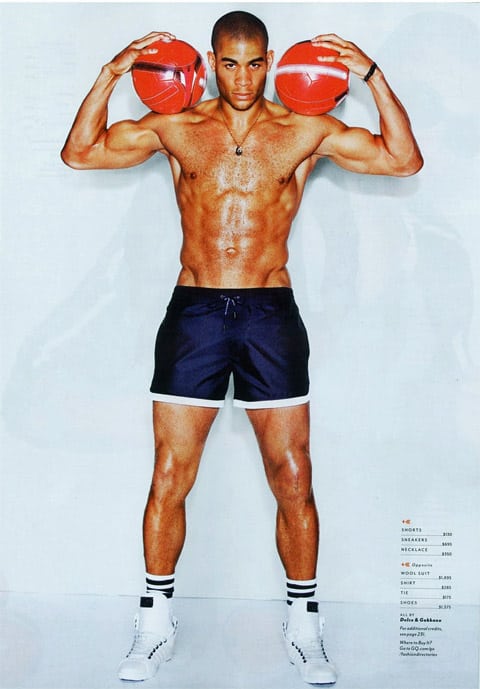 Oguchi Onyewu is a defender for AC Milan, but he'll be playing for America in the upcoming World Cup.
Writes GQ: "Onyewu, who goes by Gooch, spent a lot of this season sidelined by a nasty knee injury, but he worked his way back to train with such superstar teammates as David Beckham and Ronaldinho—and the locker room doesn't have him feeling starstruck. "I've earned a spot in that world just as much as they as have," he says. Translation: He's primed to kick some ass in South Africa. In the first round, the U.S. Men's National Team faces Slovenia, Algeria, and England—and Gooch sees all three as a threat. "Slovenia beat Russia to make it, and Algeria beat Egypt," he says. 'And those are serious teams.' But of course, everyone's hyped up for the opening match: the Americans versus the Brits. Won't Gooch talk just a little trash about Beckham's home country? 'Nah,' he says. 'I think I'll stay away from that.' Smart move."
One more shot, AFTER THE JUMP...
Previous sportraits...
Sportrait: North Melbourne Kangaroos Football Team [tr]
Sportrait: Roger Huerta [tr]
Sportrait: U.S. Olympic Bobsled Team [tr]
Sportrait: Matthew Mitcham [tr]
Sportrait: Grady Sizemore [tr]
Sportrait: Dwight Howard [tr]