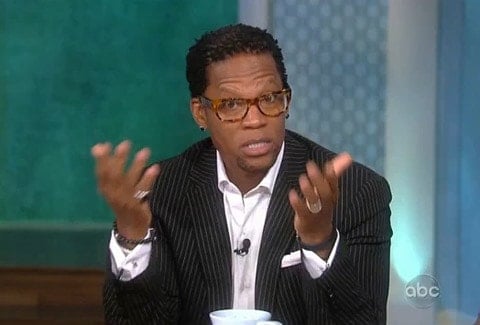 GLAAD, the National Black Justice Coalition and the Black AIDS Institute on Monday published a full-page ad in Variety calling on The View and ABC to publicly correct disparaging misinformation from Sherri Shepherd and D.L. Hughley on a June 21 episode (Video, AFTER THE JUMP...) of The View blaming Black men on the down low for increased rates of HIV in Black women, despite evidence to the contrary from the CDC.
Late Wednesday, ABC released a response to GLAAD's Action Alert to CNN, saying, essentially, that it's not responsible for correcting the misinformation spread by D.L. Hughley because it was just his "interpretation."
"On June 22, during a discussion about blood donation and the transmission of HIV/AIDS, a guest moderator on the show expressed his interpretation of data about one way the virus can be transmitted. The topic of HIV/AIDS has been raised many times over the show's 13 years, with many voices and opinions contributing to a conversation that we expect to continue as long as The View is on the air."
Watch the clip, AFTER THE JUMP...
(via marc malkin)