A couple San Diegans have emailed me angry after having heard this.
San Diego morning show DSC on radio station Jack FM 100.7 had a good laugh over Uganda "kill the gays" bill supporter Pastor Martin Ssempa and his presentations at churches where he shows gay porn and describes anal sex in order to ratchet up anger, violence, and hate toward gay people.
But at least one of the shock jocks wasn't laughing at Ssempa's ridiculousness but agreeing with Ssempa at how disgusting gay anal sex is.
The mockery begins at 56:18 in the third podcast down (8/23 7am). And continues at the beginning of the second one (8/23 8am).
Asks one of the DJs: "Are we for or against gay relations? I am 100% against it. Bad bad bad bad bad bad bad. Since I listened to this Ugandan minister talk about the lifestyle of gay men. Are you ready to be convinced?"
They've also posted Martin Ssempa's 'Eat Da Poo Poo' video on the station's website, and a poll, below.
Phone numbers, if you're interested in calling the station, AFTER THE JUMP...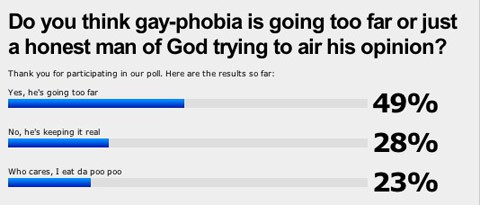 The phone numbers:
858.571.8888
Call In Line (studio):
(888) 570-1007