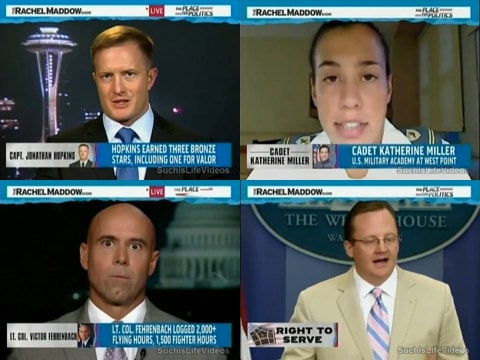 Outed U.S. Army Captain Jonathan Hopkins, Cadet Katherine Miller (who resigned from West Point this week because her conscience could not handle living the lie any longer), and Lt. Col. Victor Fehrenbach, who last night announced he is suing to block his DADT discharge, appeared on Rachel Maddow's show last night in a blistering segment excoriating the White House for the way it has handled the DADT repeal process.
Asks Maddow:
"If you are changing the policy soon, why not hold off the ruination of lives under the policy now, in the meantime? Why not do that? Ill tell you why. Because that would take some political capital. That would take some guts. And liberals, according to this White House, ought to be drug tested if we're expecting to see that from this White House right now. Stop complaining and be happy with what you have."
Watch Maddow's "Right to Serve" segment, in four parts, AFTER THE JUMP...