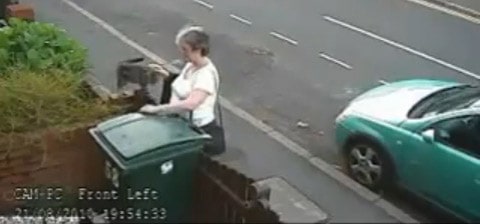 Mary Bale, who was caught on surveillance video in Coventry UK throwing a cat into a trash bin, says she's sorry and doesn't know why she did it:
"I want to take this opportunity to apologise profusely for the upset and distress that my actions have caused. I cannot explain why I did this, it is completely out of character and I certainly did not intend to cause any distress to Lola or her owners. It was a split second of misjudgment that has got completely out of control. I don't know what the fuss is about. It's just a cat. I did it as a joke because I thought it would be funny. I never thought it would be trapped, I expected it to wriggle out. I don't know what my relatives will think but to be honest I think everyone is overreacting a bit."
In related news, the cat has exacted revenge. Watch, AFTER THE JUMP...