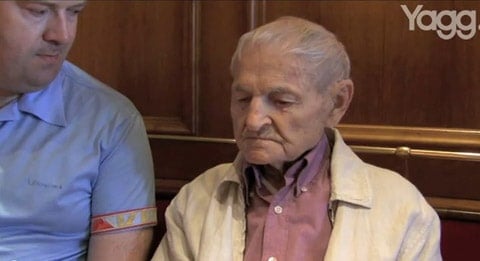 Rudolf Brazda, the last known survivor of the Pink Triangles, tells the sobering story of his experience for French website Yagg:
"The son of Tcheckoslovaquian immigrants in Germany, Rudolf Brazda was 20 when Hitler rose to power. He had lived his homosexuality freely and openly until the law penalizing homosexuality, the notorious "Paragraph 175″, was toughened by the Nazi regime. On August 8, 1942, after having gone to prison twice, he was sent to the concentration camp of Buchenwald, where he was given the number 7952, and a pink triangle. Even though Buchenwald wasn't an extermination camp, an estimated 56.000 prisoners (out of the 238.000 who were incarcerated) died in the camp, either because they were executed or from exhaustion or illness."
Watch, AFTER THE JUMP...