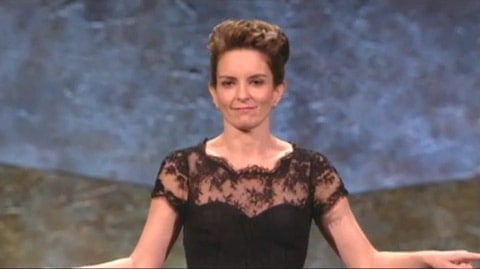 PBS insists it was not a political decision to edit a portion of Tina Fey's remarks from its broadcast of her speech at the Kennedy Center Mark Twain Awards on Sunday night, saying that the broadcast went 19 minutes over.
The remarks dealt with her impersonation of Sarah Palin:
"And, you know, politics aside, the success of Sarah Palin and women like her is good for all women - except, of course --those who will end up, you know, like, paying for their own rape 'kit 'n' stuff. But for everybody else, it's a win-win. Unless you're a gay woman who wants to marry your partner of 20 years - whatever. But for most women, the success of conservative women is good for all of us. Unless you believe in evolution. You know - actually, I take it back. The whole thing's a disaster."
Watch a portion of Fey's remarks (the edited part starts at around 12:30), AFTER THE JUMP...
Watch the full episode. See more Mark Twain Prize.
More clips from the show HERE.