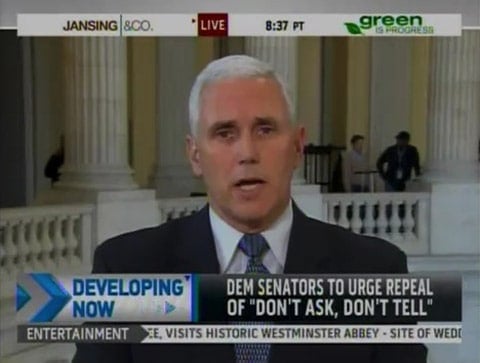 MSNBC's Chris Jansing asked Rep. Mike Pence (R-IN) to chime in on what's happening in the Senate on DADT, and reports from the Pentagon that service members and their families would have little issue with repealing it.
Said Pence:
"I would still have a problem with it because there's no question to mainstream homosexuality within active duty military would have an impact on unit cohesion would have an impact on recruitment, an impact on readiness, that's been established and written about and chronicled for many many years and I believe we need to continue to keep the focus of our military on the mission of the military. Don't ask don't tell was a compromise back in the early 90s, it's been a successful compromise we ought to leave it like it is and and not run the risk of impacting the readiness of our military or recruitment for our military because of an effort to advance some liberal domestic social agenda."
Watch, AFTER THE JUMP...