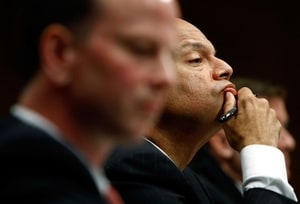 Big names like Sen. John McCain, Adm. Mike Mullen and Defense Secretary Robert Gates dominated Don't Ask, Don't Tell news stories last week, leaving one important man largely in the shadows, Jeh C. Johnson, the Defense Department's general counsel and co-writer of the Pentagon's pivotal repeal report.

Reporter Elisabeth Bumiller recently sat down with Johnson, and in today's New York Times offers some familial background to the lawyer's current work.
That background, peppered with racial discrimination in the military, helps illuminate how a DADT repeal would work today.
In addition to touching on Johnson's work as Air Force counsel under the Clinton Administration, and the fact that he was the first black partner at his former law firm, Bumiller reveals that Johnson's grandfather was a Tuskegee Airman -- African-American pilots who flew in World War II --  imprisoned for ten days after participating in the Freeman Field Mutiny, a 1945 protest in which black airmen tried to cross the racial lines at a whites-only officers' club. President Truman integrated the troops three years later, in 1948.

While Johnson makes clear that anti-gay and racist discrimination are different, with race being far more obvious and therefore a "self-identifier," he does tell Bumiller that there are many parallels between an armed force segregated by color and one segregated by sexuality, particularly with regard to our military's collective ability to conform.
The study Mr. Johnson wrote with Gen. Carter F. Ham found that, over all, 70 percent of the troops surveyed said the repeal of "don't ask, don't tell" would have little effect, but about 60 percent of Marines predicted a negative impact.
The opposition to integrating the armed forces in the 1940s, Mr. Johnson said, was as high as 80 percent. "The lesson to be drawn from that," he said, "is that very often the predictions about what is going to happen overestimate the negative consequences and underestimate the military's ability to adapt."
All of the Service officials called before Congress this week said just the same: our men and women in uniform are more than capable of acclimating to a DADT repeal. As Mullen said, quoting a Marine officer, "If [repeal is] what the president orders, I can tell you by God we're going to excel above and beyond the other services to make it happen.'"
Our nation has undergone some terribly divisive culture wars in the past, and we continue to face fresh struggles, yet we've always adapted to new situations and scenarios. The military, thought to be our bravest and brightest, broke racial ranks before most of the American public, helping lead the way toward a more integrated nation.
By voting against our soldiers', sailors' and airmen's abilities to accommodate change, repeal opponents are essentially voting against the American people's own cultural dexterity. If only certain senators would see the connection and realize that they have to look toward the past to map America's future.