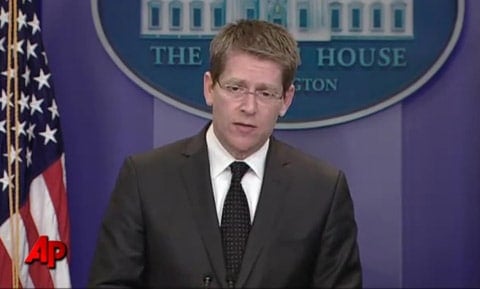 President Obama is personally "grappling with the issue" of same-sex marriage, his Press Secretary Jay Carney told reporters today while answering a series of questions about the President's request to AG Eric Holder that the administration stop defending Section 3 of the Defense of Marriage Act (DOMA) in court.
Obama said in December that he was "wrestling" with the issue and that his feelings were "constantly evolving". In a 1996 questionnaire from the Windy City Times, Obama said that he supported legalizing same-sex marriage. His current position is "a strong civil union that provides them the protections and the legal rights that married couples have."
Watch Carney discuss the DOMA developments, AFTER THE JUMP...