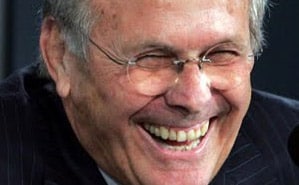 Radio hosts Opie and Anthony conduct the most ridiculous Donald Rumsfeld interview ever, during which Louis C.K. continuously presses the former Defense Sec'y on whether or not he's a flesh-eating lizard person.
Says Rumsfeld, finally, after repeated attempts to get him to verbalize it: "I did not just arrive in town falling off a turnip truck."
Watch, AFTER THE JUMP...