Dior designer John Galliano appeared in court in Paris yesterday: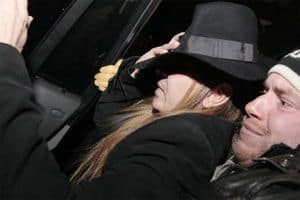 "French prosecutors were examining conflicting testimony on Tuesday before deciding whether or not to charge British fashion designer John Galliano with anti-Semitic and abusive behaviour...The official said prosecutors expect to announce later on Tuesday whether any charges would emerge from the inquiry. 'Either the probe will lead to prosecutions or it won't, but we'll soon know,' he said."
Natalie Portman, whose campaign for Dior's 'Miss Dior Cherie' fragrance just came out, condemned the designer, calling his anti-Semitic remarks "disgusting":
"I am deeply shocked and disgusted by the video of John Galliano's comments that surfaced today. In light of this video, and as an individual who is proud to be Jewish, I will not be associated with Mr. Galliano in any way. I hope at the very least, these terrible comments remind us to reflect and act upon combating these still-existing prejudices that are the opposite of all that is beautiful."
Watch Galliano mobbed by paparazzi at the police station, AFTER THE JUMP...
Previously...
Watch: Dior Designer John Galliano Proclaims 'I Love Hitler' [tr]
Galliano Files Defamation Lawsuit Against Couple He is Accused of Attacking [tr]
Dior Designer John Galliano Arrested in Paris for Drunken, Anti-Semitic Assault [tr]