Brad Pitt is a strict 1950s father in Terrence Malick's drama "The Tree of Life"


NATHANIEL ROGERS
...would live in the movie theater but for the poor internet reception. He blogs daily at the Film Experience. Follow him on Twitter @nathanielr.
 
 NOW PLAYING
The Memorial Day holiday brings us three big films:, THE HANGOVER PART II, KUNG FU PANDA 2 ...and THE TREE OF LIFE 2! I kid, I kid. In nearly forty years of filmmaking the elusive auteur Terrence Malick has only directed five features (Badlands, Days of Heaven, The Thin Red Line, The New World and The Tree of Life) so he's as likely to direct a sequel as Hollywood is to go a summer without one. (Or ten in the case of Summer 2011 - twelve if you count all The Avengers prequels.) All five Malicks are contemplative and possessed by the beauty of the natural world and the mysteries of human nature, so Hollywood has decided that only critics, dendrophiles, and big city arthouse viewers will be interested -- even with Brad Pitt front and center and even though it the film just won the Palme D'Or at Cannes  -- so it's only on four screens for the big weekend. Damn you, distributors!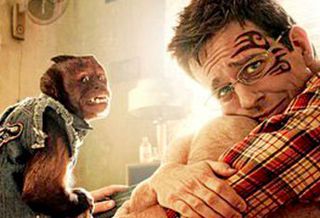 Which leaves most audiences with choices between bloated sequel, A, B, C or  F. In the case of The Hangover 2, one of the media stories is how much male genitalia is onscreen. The penis is still taboo in Hollywood movies which leads people to say all sorts of ill informed things like this, from Executive Producer Ivan Reitman, for example:
 "It's a last-frontier thing. There's been a long tradition of naked and half naked women in films, so this is a way of upping the ante in terms of erotic explicitness."
But it's neither the last-frontier nor erotic. MORE, AFTER THE JUMP...
Penises have been used as comic props for many years now (Sideways, Borat, etcetera). The last frontier would be if Hollywood admitted that cocks aren't just for comedy; they've got mad drama skills, too! Think about it: when was the last time a mainstream Hollywood movie showed man parts in a way that wasn't meant to make the audience LOL? Take your time. Think long and hard. And, no, British movies don't count.
We'll wait.
BONUS SCENE


This image of Tom Hardy's back as "Bane" in The Dark Knight Rises, the Batman film that's shooting now, got the internet all hot and bothered this week, but it's hardly the first time Tom Hardy has given a lot of back in the movies. If you haven't seen his coming out party as a Star Actor, check out BRONSON which is available for instant watch on Netflix. It's quite an odd movie, but he gives a lot of back — front, too, and not for comedic purposes.
But remember: British movies don't count.
THE CLASSICS
In honor of Fleet Week, currently in session here in NYC, four classic silver screen sailors from the movies.
Will you be shipping off with Jack Nicholson, Gene Kelly, Steve McQueen or Brad Davis?