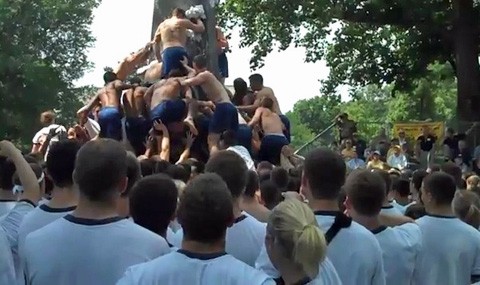 The Herndon Climb, the annual decades-old tradition at the US Naval Academy in Annapolis wherein dozens of plebes attempt to get to the top of a greased-up 21-foot granite obelisk, took place earlier this week.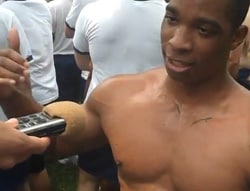 Eye on Annapolis reports:
"Tradition has it that the midshipman who makes it to the top will be the first in his class to achieve the rank of Admiral.  The climb, a tradition since 1950, has recently been the subject of some controversy when former Academy Superintendent Vice Admiral Jeffrey Fowler disallowed the use of the lard. Current Superintendent, Vice Admiral Michael H. Miller reinstated the long standing tradition."
And, of course, next year should be the first year that openly gay plebes will be participating.
Watch the video, AFTER THE JUMP...