Utah Rep. Jackie Biskupski, the state's only openly gay legislator, is resigning, after buying a home outside her district where she wants to raise her adopted son, the AP reports: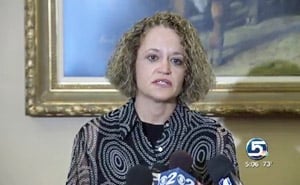 Biskupski faced an onslaught of fliers attacking her sexual orientation when she first ran for the Utah House in 1998.
The Democrat won her district in the heart of Salt Lake City — one of the most liberal in the state — by an almost 2-to-1 margin but still faced opposition in the Legislature, where she said some lawmakers "couldn't even look me in the eye."
The Daily Herald adds:
Biskupski is the third openly gay state legislator to resign from the Legislature in as many years. Sen. Scott McCoy, D-Salt Lake City, resigned in 2009 and Rep. Christine Johnson, D-Salt Lake City, left her job in May 2010. With Biskupski's resignation, there are currently no openly gay members serving in Utah's Legislature.
Biskupski will continue to live in Salt Lake City and is considering a run for mayor in 2015.
Watch Biskupski's resignation, AFTER THE JUMP...
Video Courtesy of KSL.com