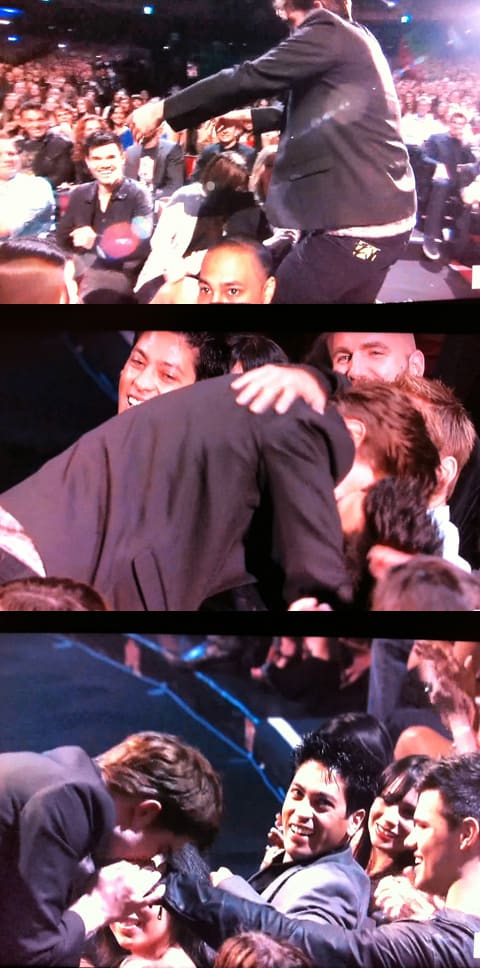 After winning 'Best Kiss' with co-star Kristen Stewart at the MTV Movie Awards last night, Robert Pattinson decided to offer something else Twi-hards have been asking for. He headed to the audience to find Taylor Lautner.
Following the show, the other Twilight stars discussed, MTV reports:
"It was about damn time, man. It's been up in the air for about three years now. I think we've all been waiting for Rob and Taylor to kiss," Jackson Rathbone told MTV News when we caught up with him backstage at the Gibson Amphitheatre in Los Angeles. "We knew it was coming, and finally it did. Finally, they acknowledged their love for each other."
Rathbone's vampire brother Kellan Lutz admitted he was a bit surprised, but their co-star Peter Facinelli shared a little secret about how the RPattz/Taylor smooch went off without a hitch.
"They asked us to show them in practice," Facinelli said.
"We taught them everything they know," Lutz confirmed.
Watch the kiss, plus the new trailer for Twilight's Breaking Dawn, AFTER THE JUMP...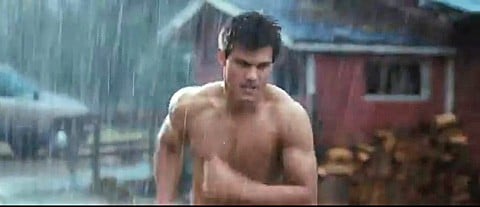 Trailer: