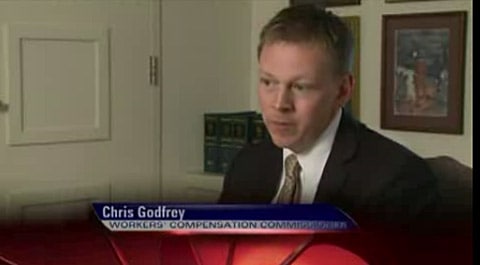 Iowa's Workers Conpensation Commissioner Chris Godfrey has filed a lawsuit against Governor Terry Branstad (below) saying that the governor asked him to resign twice and cut his pay by half when he refused, because he's gay, the Des Moines Register reports: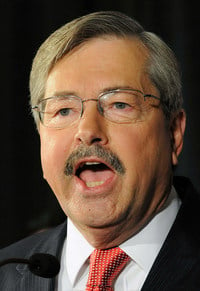 Iowa's workers' compensation commissioner today filed a lawsuit against the state, alleging defamation, harassment, sexual discrimination and extortion after Gov. Terry Branstad cut his pay by almost $36,000 last year.

A claim from commissioner Chris Godfrey asks for $1 million in compensation, a common line-item request in such litigation, said his attorney, Roxanne Conlin.

The governor's office issued a statement this afternoon saying Branstad did not discriminate against Godfrey in any way. The statement said Branstad previously had asked Godfrey to step down because of his performance as the workers' compensation commissioner, "where he oversaw an increase in workers' comp insurance, forcing additional costs onto Iowa businesses."
Godfrey says he won't be bullied:
"For those people that are going to be bullied by this governor or by someone else, I can lead by example and say, 'It's OK to stand up to someone, even someone as strong as the governor of the state of Iowa,'" Godfrey said. "I can stand up to that bully, and it's going to be OK."
Watch WHO-TV's report on the lawsuit, AFTER THE JUMP...