Tennis Australia released a statement clarifying that it does not agree with anti-gay bigot Margaret Court: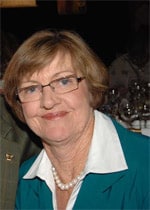 Margaret Court has won more grand slam titles than any other player and has been honoured for her achievements in tennis and she is a legend of the sport. We respect her playing record, it is second to none.
But her personal views are her own, and are definitely not shared by Tennis Australia. Like the WTA, we believe that everyone should be treated equally and fairly.  We concur wholeheartedly with the WTA who stated that "all human beings, regardless of gender, race, ethnicity, sexual orientation or otherwise, should be treated equally. 
This is a fundamental right and principle, including within the world of sport.  Anyone advocating otherwise is advocating against fundamental and essential rights."
TA does not support any view that contravenes these basic human rights.
Also:
Four-time grand slam doubles champion Rennae Stubbs says she fully backs activists showing their support for gay rights at the Australian Open starting next week.
Stubbs, who has been open about her homosexuality for six years, said it was only fair that people had the same voice as former Australian great Margaret Court who prompted a recent backlash because of her anti-gay views.
Activist groups are planning to protest Court next week at the Australian Open, with one activist calling for her name to be removed from Melbourne Park's show court arenas. She has said it won't keep her away.
For a recap of what Court has said recently, click HERE.