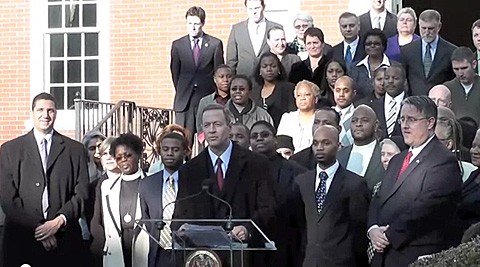 After a breakfast meeting with LGBT advocates this morning at his residence, Maryland Governor Martin O'Malley spoke to reporters about the marriage equality bill he officially introduced last night.
O'Malley stressed the religious protections in the bill:
"We have done our very best in the drafting of this bill to make very, very, very explicit the protections of religious liberty as well as the protection of rights equally under the law, and it's my hope that that will not only allow more support in the House of Delegates but, as importantly, I hope it will allow more people throughout our state to be able to support this bill,. One does not have to be an advocate for same-sex marriage in order to support equal rights under the law."
Watch O'Malley, Reverend Starlene Joyner Burns, President of Marylanders for Marriage Equality Ezekiel Jackson, gay couple Daryl Fields and O'Brien Banner, and Senator Richard Madaleno talk about the bill, AFTER THE JUMP...