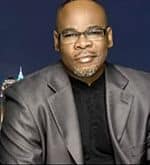 Self-loathing "ex-gay" activist DL Foster tells Peter 'porno Pete' LaBarbera, on La Barbera's Americans For Truth About Homosexuality Radio Hour, that he thinks Dn Savage should be arrested for the "It Gets Better" project because gay teens are still killing themselves after believing his message, Right Wing Watch reports.
Says Foster: "I think he—personally—I think he should be arrested for propagating this lie to—for these kids to have this false promise without any sort of information on what is 'it' anyway? It's really so vile to me that it disturbs me to even talk about it."
Watch, AFTER THE JUMP...