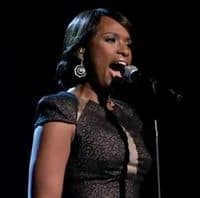 Jennifer Hudson will sing a tribute to Whitney Houston at tonight's Grammy Awards, FOX News reports:
"She's a good friend of the Grammys," [said Ken Ehrlich, executive producer of the Grammy Awards]. "She's had some very significant appearances on the show. It felt right to ask to her to come and help us honor Whitney, which she will do musically."

This will be the 30-year-old Hudson's third performance at the Grammys. She received a standing ovation for her moving rendition of "You Pulled Me Through" in 2009, in what was one of her first performances after the murder of her mother and brother. That same year, Houston presented Hudson with her Grammy for Best R&B Album. In 2011, Hudson joined Christina Aguilera, Florence Welch, Martina McBride and Yolanda Adams onstage to pay tribute to Aretha Franklin.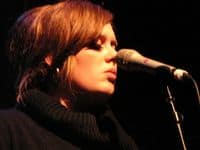 As it happens, Whitney presented Jennifer Hudson with her first Grammy in 2009.
The English writer, singer, and general phenom Adele is widely expected to sweep this evening's Grammys, and until Whitney Houston's death on Saturday the chatter among Grammywatchers mostly consisted of speculation on the state of Adele's voice. She will perform live tonight for the first time since November, when she undewent surgery to correct problems stemming from a vocal hemorrhage. She ought to do fine. Last week she sang the first verse of "Rolling In The Deep" a capella during an interview with Anderson Cooper, and she sounded fantastic. Maybe her timbre's a little darker than before. It'll be a good sound to hear tonight, during a uniquely solemn Grammys. Take a listen AFTER THE JUMP ...