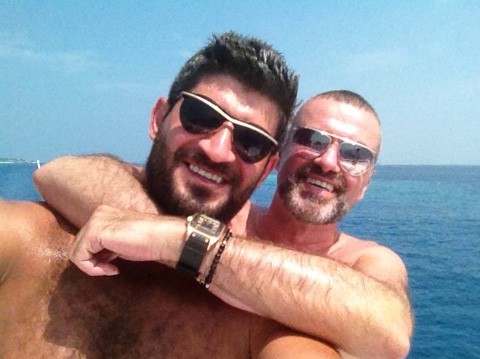 George Michael's recovery from life-threatening pneumonia appears to be going well. His boyfriend Fadi Fawaz posted these photos to his Twitter from their holiday in the Maldives.
Wrote Michael on Twitter: "Hey everyone, I'm on the first real holiday I've had in many a year...sipping a cocktail on a balmy night, listening to the sea ... People, I'm excited....just finishing a ballad that I think is going to make you think my eighties self has been re-born ! ...Which I suppose it has in a way :) Even my tracheostomy scar is healing nicely in the sun, was looking a bit Bride of Chucky for a while. Spoke to doctors before I came away and they told me my recovery is way quicker than can usually be expected so I'm happy as Larry... Sun, sand, and a bit of this doesn't hurt either :) !!!"
Another woofy photo of Fadi, AFTER THE JUMP...