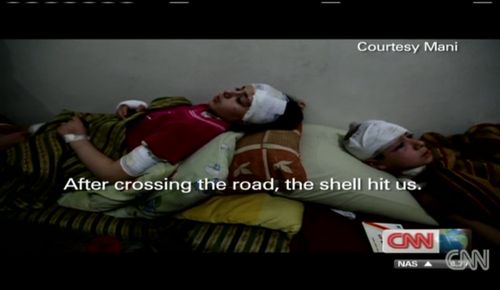 A very brave freelance documentarian has been shooting for weeks in the embattled Syrian city of Homs, where for nearly a month the forces of President Bashar al-Assad have been shelling residential neighborhoods. The documentarian has befriended members of the anti-Assad rebellion, and he records his videos in their midst -- battling government snipers in room-to-room combat, firefighting in the streets, tending to the dead. The video he's compiled and released to CNN represents some of the best and bravest war reporting I've seen in any format.
The video's twelve minutes long, and a lot of it will stick with you. I was especially struck by two things. First: Eight minutes and twenty some-odd seconds into the film, three men greet each other on a Homsian street, hugging and kissing, seemingly on the verge of tears. They look like friends or brothers who didn't expect to see each other alive again. Second: At video's end, a grandmother watches over a brood of children. Some of her own children are dead, but we don't know how many. She may not know either. She's utterly still, too furious and aggrieved even to scream.
Watch AFTER THE JUMP ...