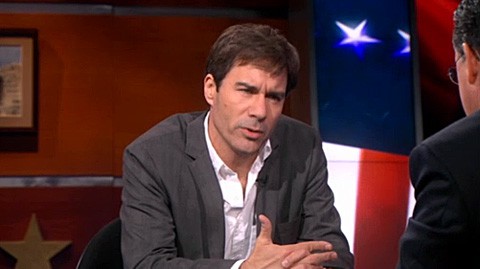 Stephen Colbert has written a new sitcom in response to Vice President Joe Biden's nod to gay-accepting television ('Will & Grace') in his remarks on Meet the Press over the weekend.
Says Colbert: "These gay sitcom characters are a menace to society. They seduce us into thining that gays are just like us. Normal people with real relationships based on love and mutual respect. Disgusting...Real men know that men don't love each other. They are bros who engage in horseplay...So to rebalance the natural order of television, I've written a new sitcom about two straight guys named Will and Gracin, who are always on the prowl for the ladies. One has a cat and one has a dog. Which is why the show is called "Pussy Hound".
Watch, AFTER THE JUMP...