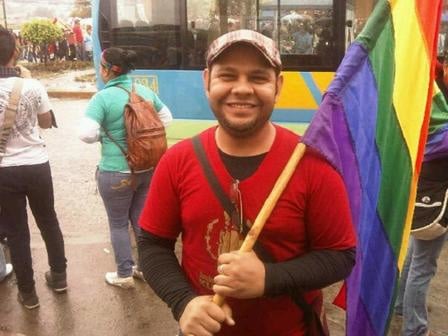 The body of gay journalist and LGBT activist Erick Martinez has been found in a ditch near the side of a road outside of Tegucigalpa, Honduras. The exact circumstances of his death are unknown, but homicide is being considered given his background the alarming number of murders of both gays and journalists in the country.
The BBC reports:
Local media quoted police as saying Mr Martinez showed signs of strangulation. The motive for his reported killing remains unclear but rights groups say more than 20 media workers have been killed in Honduras since 2009.
The country has the world's highest murder rate: 86 per 100,000 inhabitants, according to UN figures.
Mr Martinez's body was found by the roadside in the village of Guasculile, north of the capital, Tegucigalpa. He worked for an association defending lesbian, gay, bisexual and transgender (LGBT) rights. Mr Martinez had also been chosen last year as a candidate for a coalition of parties that emerged after the ousting of President Manuel Zelaya nearly three years ago.
According to rights groups, more than 20 journalists have been killed in Honduras since 2009 when the military helped to overthrow Mr Zelaya. It has not been established if all the murders were work-related.
According to La Informacion: "According to a report by the State Commissioner of Human Rights between 2010 and 2011 at least 20 members of the lesbian, gay, bisexual and transgender (LGBT) have been murdered in Honduras…"