Yesterday I noted that Sean Hayes, Eric McCormack, and Debra Messing had responded to VP Joe Biden's reference of their show in his Meet the Press remarks endorsing marriage equality.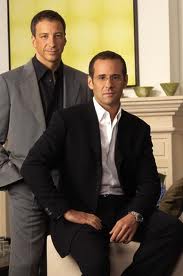 Said Biden in the interview: "When things really begin to change is when the social culture changes. I think 'Will & Grace' probably did more to educate the American public than almost anything anybody's ever done so far."
Variety spoke with show creators David Kohan and Max Mutchnick.
Series co-creator David Kohan called the reference "thrilling and surprising and humbling."
Mutchnick, who is an event chair of an LGBT fundraiser for Obama in L.A. on June 6, praised Biden, but has more pointed words for Obama:
…he said that the President "needs to catch up with his vice president in terms of his views."
"I have always thought that his language, where he has stated that his views are 'evolving,' I personally find that wholly offensive," Mutchnick said. "I can't imagine what it would be like to say that about other minorities in the United States. I couldn't speak that way about other people."
"The reason I feel most offended by this is because I don't believe the President believes this," Mutchnick said. "I don't believe he is evolving. I believe he is a man seeking reelection, and he all but breaks it down into Morse code." He was referring to the nuance of the President's position, as he tries to woo LGBT support yet does not embrace same-sex marriage for fear of jeopardizing votes in key swing states.
He added, "The President should take a page from his friend Oprah Winfrey who takes a page from her friend Maya Angelou. 'We do better when we know better.' I believe the President knows better."
Mutchnick says he's writing his check on June 6 for Joe Biden.