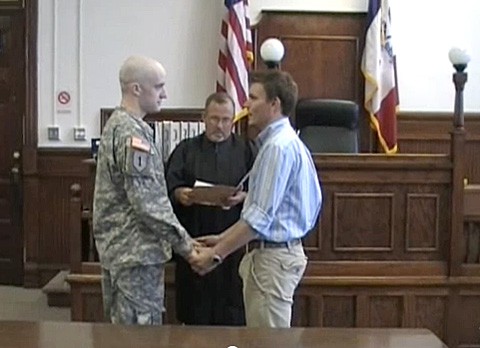 Nothing flashy here, just, as Good As You notes:
"It's just an army man, Paul, and his love, David, in a non-church setting, entering into a *civil* marriage contract in the state of Iowa. This is what we equal rights activists are fighting to achieve in all states and federally, even as our opposition continues to throw religious asides our way."
Watch, AFTER THE JUMP...
Check out our other recent Gay Wedding videos...
Gay Wedding Video of the Day: István and Támas [tr]
Gay Wedding Video of the Day: Jason and Paul [tr]
Gay Wedding Video of the Day: Aaron and Corvette [tr]
Young Gay Couple Marries in Beautiful Clip from Italy [tr]
Gay Wedding Video of the Day: Amir and Chandler [tr]
Gay Wedding Video of the Day: Ruben and Joaquin [tr]