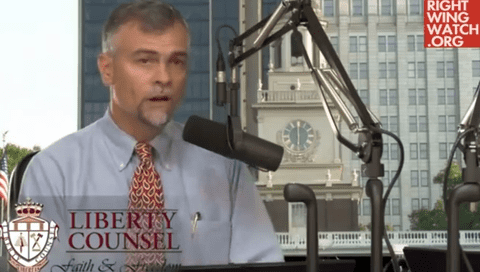 Insanity and its variations are the buzz words for right wingers today. First we had Mike Heath calling marriage equality "monstrous insanity," and now we have Steve Crampton, host of conservative group Liberty Counsel's radio show "Faith and Freedom," describing the Employment Non-Discrimination Act as "insanity."

As RightWingWatch reports, Crampton was discussing the Pentagon's decision to forbid the publication of Bibles that bear any service seal and then he veered into a Senate hearing about ENDA during which Kylar Broadus became the first openly transgender person to testify before Congress.

Apparently the concept of gender identity and the inclusive impact of ENDA are too much for Crampton to understand, so he just calls the whole thing "insanity."

Watch video of Crampton's discriminatory confusion AFTER THE JUMP...