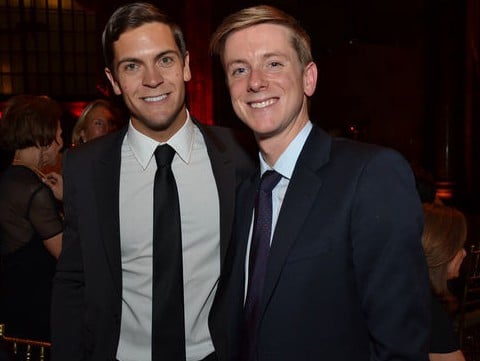 Facebook founder Chris Hughes and long-time boyfriend Sean Eldridge tied the knot in Garrison, New York, this weekend.
In addition to being one of the minds behind Facebook, Hughes is also the editor in chief and publisher of The New Republic and has become a leading contributor to the fight for marriage equality.

Eldridge, meanwhile, founded the advocacy group Protect Our Democracy, which, according to its mission statement, "is working to reform New York's campaign finance system—to reduce the influence of money and special interests in state elections, engage more citizens in the political process, and create a model for national reform."

From The New York Times' write-up on the mens' relationship:
The couple met in November 2005 through a college acquaintance of Mr. Eldridge's at a brunch in Harvard Square in Cambridge, Mass. Mr. Eldridge was working as a customer service manager for a moving company in Somerville, Mass., and Mr. Hughes was a senior at Harvard, and already a founder of Facebook.

"He was very intelligent and charismatic," Mr. Hughes said of Mr. Eldridge. "He was very kind and politically engaged, and he cared about the world around us. All of that was very attractive to me."

Mr. Eldridge was equally attracted. A week later, he asked Mr. Hughes out on a date.

"I think we shared a lot of important, common interests," Mr. Eldridge said. "We have a love of philosophy, politics and literature. He was one of the most intelligent and ambitious people I had ever met."
No word on where the men will be spending their honeymoon, but hopefully they make the most of it!
See some wedding photos Hughes posted, where else?, on Facebook AFTER THE JUMP.