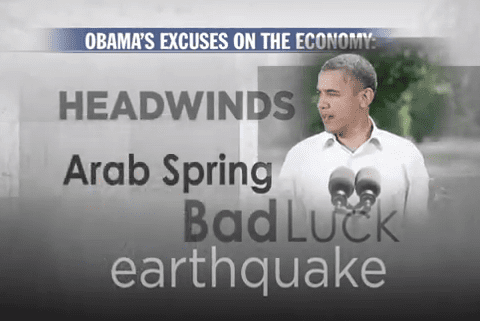 Former brain of George W. Bush and perennial conservative strategist Karl Rove and his super PAC Crossroads GPS announced today that they are running this anti-Obama ad, called "Excuses," in nine battle ground states. The price tag for this endeavor, which hammers the president for varying defenses of his economic policies, is $25 million.
ABC News offers some more details:
The new ad titled "Excuses" will run in Colorado, Florida, Iowa, Michigan, North Carolina, New Hampshire, Nevada, Ohio and Virginia from July 10 through early August.

Pegged to today's jobs report. which showed employers added 80,000 jobs last month and the unemployment rate remained unchanged at 8.2 percent, the ad is described in a release as the "first wave of a $25 million advocacy effort."

The 30 second ad begins with an unemployment line before moving to a graphic over a picture of Barack Obama that reads "President Obama: Bad Excuses for the Economy." Then a moving graphics lists various reasons for the struggling economy. The commercial ends with "Tell President Obama: Cut the Out-of-Control Debt."
Watch the advert AFTER THE JUMP.