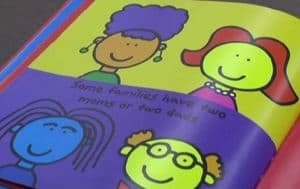 Last month, after crumbling to conservative pressure, the Erie, Illinois School Board banned The Family Book because it mentions, on only one page, that "some families have two moms and dads."
The board then removed all materials from GLSEN, the Gay, Lesbian and Straight Education Network.
"[The board's] further move to limit the use of our materials to grades 6-12 is both puzzling and deeply counter-productive," said GLSEN Executive Director Eliza Byard at the time. "GLSEN has a stellar track record of providing educationally- and developmentally appropriate resources to thousands of districts across the country for grades K-5, and our materials for the elementary grades enjoy broad support throughout the education and youth development worlds."
Well, this week, over a month after the controversy erupted, the right wing Alliance Defense Fund decided to stir the pot a bit. Said ADF attorney Jeremy Tedesco about GLSEN's materials, "Public schools should not be coerced by outside groups into indoctrinating students into homosexual behavior by exposing them to inappropriate sexual materials."
"Schools are supposed to be places of learning, not places where schools push propaganda on students. The school is right under these circumstances to prohibit access to the GLSEN materials and not cave to the ACLU's demands," he wrote at the conservative website One News Now.
The excellent Zack Ford at ThinkProgress takes obvious issue with ADF and others' position, rightfully pointing out that "any kid who comes to school and mentions that she has two daddies is 'indoctrinating' her classmates into 'homosexual behavior.'"
"The claims are simply outlandish. Having same-sex parents is neither inappropriate nor sexual, but Tedesco's comments reflect how conservatives insist on equating anything gay with sex," he writes.
Besides, if being gay were all about sex, wouldn't many of us being having more of it?