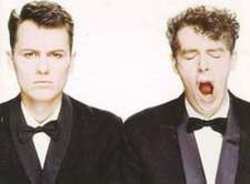 Pet Shop Boys' forthcoming album Elysium doesn't hit shelves until this September, but the gents decided to do us a summer solid by releasing a single, "Winner." I've included the track AFTER THE JUMP.
Arjan has to say about "Winner":
Fitting right in with Britain's Olympic spirit, "Winner" is wonderfully joyful tune that perfectly showcases Pet Shop Boys' refreshed state of mind. Whether you're competing, in love or simply trying to make it through another day, the song carries a universal meaning and conveys that everyone who perseveres against the odds, loves and lives in the moment is a true winner. And even when life is getting you down, Neil Tennant comforts and reminds listeners that "in desperation you get inspiration," which captures the overarching sentiment of the song.
"Winner" will be available for download tomorrow. Give it a listen AFTER THE JUMP. I've just started it and am already pretty into it. Hopefully you will be too, you winner, you.