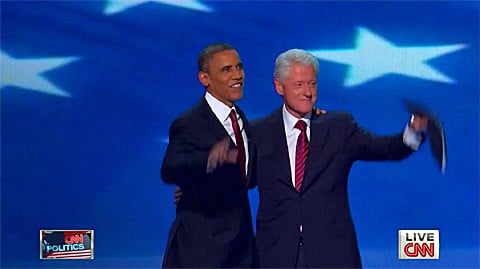 Former President Bill Clinton gave a fiery speech on Wednesday night touting Barack Obama's economic policies, his health care reform, while calling out Republican lies, divisiveness and hate, and urging voters to reject the selfish fiscal policies of Mitt Romney and the GOP.
"The most important question is, what kind of country do you want to live in? If you want a you're-on-your-own, winner-take-all society, you should support the Republican ticket. If you want a country of shared prosperity and shared responsibility — a we're-all-in-this-together society — you should vote for Barack Obama and Joe Biden."
Added Clinton, "I proudly nominate him to be the standard-bearer of the Democratic Party."
Clinton's must-watch speech, AFTER THE JUMP...