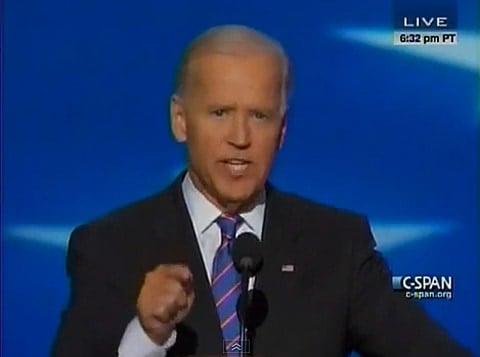 Didn't get a chance to post this last night, but VP Joe Biden's acceptance of the nomination was also one of the finest speeches of the evening, dropping this nugget after a longish segment about the auto bailout and the taking of bin Laden:
Ladies and Gentlemen, I'm here to tell you, bravery resides in the heart of Barack Obama.  And time and time again, I witnessed him summon it. This man has courage in his soul, compassion in his heart, and steel in his spine. And because of all the actions he took, because of the calls he made–and because of the grit and determination of American workers–and the unparalled bravery of our special forces–we can now proudly say—

Osama Bin Laden is dead, and General Motors is alive.
Watch, AFTER THE JUMP...
And if you missed them, here are speeches from the President, Barney Frank, Zach Wahls, the Pledge of Allegiance led by Gabrielle Giffords, and an Obama LGBT video that played tonight.