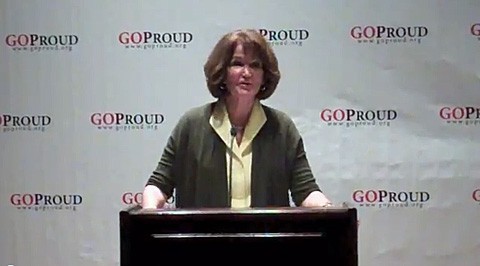 Pundit Bay Buchanan addressed a crowd of 65 attending gay conservative group GOProud's 'Unity' event in Washington D.C., , mocking Obama and assuring them Romney would win the election. No mention of LGBT rights was made at the event.
Watch, AFTER THE JUMP...
...the audience seemed largely unconcerned about Buchanan's position on LGBT issues or the lack of any mention of them.

Jose Romero, 34, a gay D.C. resident, said he came to the event because "it's time for a change" and after four years of the Obama administration "people aren't in a better place than they were four years ago."

"I think everyone has their own issues that are important to them and not everyone's No. 1 issue is getting married," Romero said. "The economy, international politics, those types of issues are more important, I think, to some people than others."

Jimmy LaSalvia, GOProud's executive director, introduced Buchanan, reminding them his organization is the only national gay organization to endorse Romney because "on issue after issue, a Romney administration would be better for gay Americans, indeed all Americans."
Wach Buchanan's address, AFTER THE JUMP...