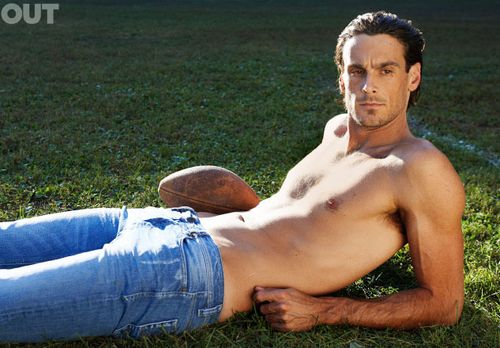 OUT features LGBT equality advocate and Minnesota Vikings punter Chris Kluwe on its latest cover, and Cyd Zeigler offers some insight into Kluwe's well-known online diatribes opposing the haters:
"Your insults can't be the standard f*ck, sh*t, bitch -- it has to be something that sticks in people's minds," says Chris Kluwe, the Minnesota Vikings punter, explaining how to craft a devastating letter to someone whose views you hold reprehensible. "Generally the way you do that is to take a swear word—usually a part of someone's anatomy -- and attach it to something else that it normally wouldn't go with. When you come up with a good one, you'll know you have it because you'll just start giggling to yourself."

For example, "lustful cockmonster."
Kluwe says that he actually spewed some of the anti-gay slurs at one point in his life:
But for Kluwe, taking a stand on gay rights is as instinctual as planting his foot into a ball. "It's all about the Golden Rule," he says. "Treat other people as you want to be treated. It's that simple. It's something that needs to be spoken about, and it's something I can do while fulfilling my job as a football player."

Growing up in Los Alamitos, Calif., 20 miles south of Los Angeles, Kluwe's parents preached to their son a mantra of tolerance with a profanity-free lexicon. Neither stuck at the time. As a tween, gay slurs peppered his speech with the same heedlessness as his peers. "Unfortunately, as kids, sometimes you don't understand what your words can mean because you're not emotionally mature enough yet," he says. "As you grow up and start learning about the world, you realize, Hey, some of this stuff is hurtful; I would not want to be treated that way. That's part of maturing."
Read the whole article over at OUT, and check out the gorgeous cover, AFTER THE JUMP...