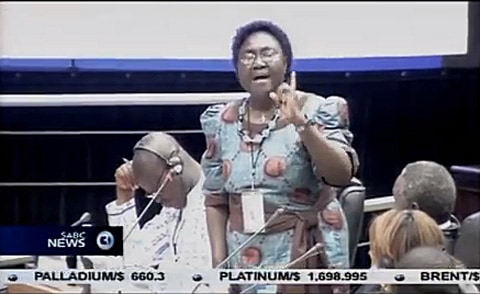 It isn't enough for Ugandan lawmakers that they have a "kill the gays" bill under consideration. They want the ENTIRE CONTINENT of Africa to pass a resolution condemning homosexuality and imprison homosexuals for life.
Watch the lawmaker address the Pan African Parliament, AFTER THE JUMP...
SABC reports:
Same sex relations are illegal in Uganda. Homosexuals are often subjected to violence and social rejection. Today Ugandan lawmakers tried to go a step further, hoping to get the continent's support for life imprisonment for homosexuals.
Ugandan parliamentary member Atim Ogwal Cecilia Barbara told the PAP seating: "Africa must stand up. We must pass a resolution condemning homosexuality because it is not an African culture. We are not allowed to practice polygamy in other countries, why should we be forced to do what is not natural?"

The proposal was rejected, with some members saying it's a blot on Uganda's remarkable emergence from civil war. South African parliamentary member Santosh Vanita Kalyan says the resolution that Uganda is calling for, is "bizarre."

Kalian went further to say: "It will never pass in this parliament, especially from members like us who feel that the rights of all should be respected."
Watch the Ugandan lawmaker rage, AFTER THE JUMP...