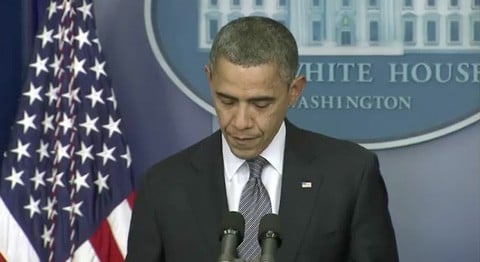 Obama addressed today's tragic school shooting in Connecticut, wiping away tears as he spoke to reporters:
"The majority of those who died today were children — beautiful little kids between the ages of 5 and 10 years old...They had their entire lives ahead of them — birthdays, graduations, weddings, kids of their own....We've endured too many of these tragedies in the past few years, and each time I learn the news, I react not as a president, but as anybody else would, as a parent. And that was especially true today. I know there's not a parent in America who doesn't feel the same overwhelming grief that I do...These neighbors are our neighbors, and these children are our children, and we're going to have to come together and take meaningful action to prevent more tragedies like this — regardless of the politics."
Watch, AFTER THE JUMP...