The "kill the gays" bill is on the shelf, at least for now.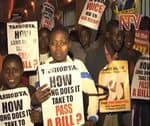 Via Warren Throckmorton:
According to Parliament spokeswoman Helen Kawesa, Parliament will adjourn today until February 4, 2013. After considering the Accountants Bill, Parliament will begin a Christmas recess with the next scheduled sitting being in the new year. Thus, the Anti-Homosexuality Bill will not have a second reading until at least February of next year.