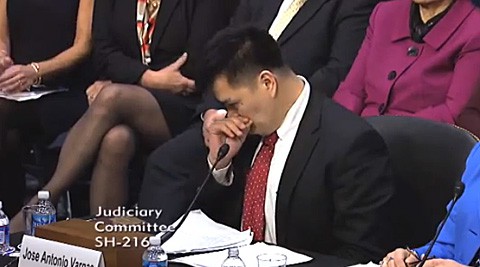 Jose Antonio Vargas, a gay journalist who won a Pulitzer Prize for his coverage of the Virginia Tech shootings and in June 2011 came out as an "undocumented immigrant" in a stunning piece in the New York Times, gave a thought-provoking, applause-inspiring, powerful round of testimony at immigration reform hearings on Wednesday afternoon, Think Progress reports.
Fighting back tears, Vargas asked:
"For all the undocumented immigrants who are actually sitting here, at this hearing, for the people watching online and for the 11 million of us, what do you want to do with us?" And to me, the most important question, as a student of American history is this — how do you define an American, how do you define it?"
Watch his emotional testimony, AFTER THE JUMP...