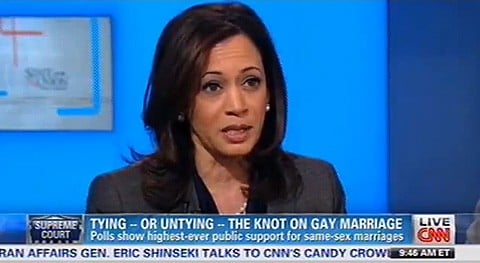 California Attorney General Kamala Harris delivered a ferocious defense of equality when questioned this morning by CNN's Candy Crowley about why the state of California was not defending Proposition 8:
"I am absolutely against a ban on same-sex marriages because [bans] are simply unconstitutional...And the Constitution of the United States dictates, I believe, under every court precedent that we have discussed in terms of describing marriage as a fundamental right that the same-sex couples that are before the United states supreme court — Mrs. Windsor, Miss Perry — be allowed to have equal protection under the laws as any Americans when it comes to their ability to join themselves with their loving partners in marriage and raise their children...
...It gets back down to a very simple notion of fundamental rights, fundamental concepts of justice, fundamental concepts of liberty. We have 50,000 children in California right now who are asking, 'why can't my parents be married too?"
Watch, AFTER THE JUMP...