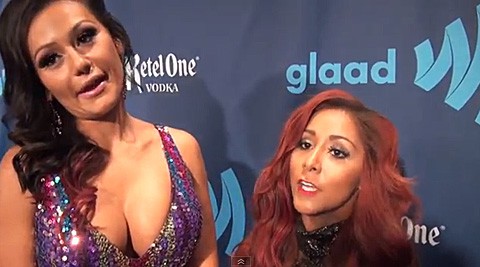 Vanity Fair has the scoop from Saturday night's GLAAD awards:
Just days before the Supreme Court will be considering the Defense of Marriage Act and California's Proposition 8, both of which prohibit same-sex marriage, the Jersey Shore stars hope the justices strike down both. "They better pass it," JWoww said. "They better. Or I'll come for them." Snooki concurred: "Yeah. I will find you, and I will kill you," she said.
I don't think Sonia Sotomayor has much to worry about but Scalia might.
And if you're interested in what they had to say about Anderson Cooper and Madonna, Boy Culture got that scoop, AFTER THE JUMP...