Conservative pundit Bill Kristol thinks the decision to get on the marriage equality train by some members of his party will "earn the contempt" of the GOP base and finds interest in what young people think about it "pathetic," Mediaite reports: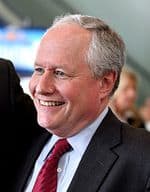 Noting that the Republican "establishment" (not including himself, of course) looks like a herd "running to catch up with the trends" because "some polls show [same-sex marriage] is now 58% popular and five years ago it was only 43% popular" (yes, that's called an upward trend), Kristol lamented how some of the party's leaders believe it necessary to take on the "fashionable" position of being okay with gay marriage.

"Not only will those earn the contempt of people who believe in defending traditional marriage," he said, but they won't even get credit for hopping onto the bandwagon.

"This kind of pathetic attempt to say, 'Oh, my God! Young people especially are liberal so let's just rush to cater to them,' as if they're going to respect you if you just embrace the views of some 26-year-old who doesn't know anything honestly."
Listen, AFTER THE JUMP...