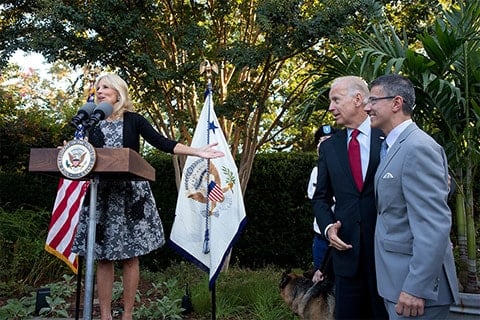 In the latest installment of his audio series entitled, "On the Road to Fairness," Vice President Joe Biden praises the Supreme Court's ruling on DOMA, proclaiming,
"I think we're on the verge of seeing America move even further. I think we'll see the day when it is no longer a debate about whether or not same-sex couples can be married and whether or not they deserve every single civil right every other married couple deserves. This is a great day...for every gay and lesbian couple and it should be a great day for every straight couple in America. Now we can look each other in the eye and say: We're on the road to absolute fairness and equity."
Listen as Biden talks about LGBT equality and relates the story behind the above picture of him and his wife, Dr. Jill Biden, introducing a gay member of their staff, Carlos, at a special reception they held for the LGBT community this past September AFTER THE JUMP...
(Official White House Photo by David Lienemann, September 19, 2012)